We are pleased to be sponsoring the Print Production Achiever of the Year category award for NewsAwards 2021.
35-year-old Assistant Technical Services Manager at Newsprinters, Rob Champion, was awarded the UPM Premier award 'Print Production Achiever of the Year' at the NewsAwards UK in November 2021. The award was given for his significant strides in his professional development. Print Production Achiever of the Year is a new award at the Newsawards, and it is the only individual award, recognising the achievement of an individual from the newspaper publishing industry. He was nominated for the award by members of the Newsprinters Leadership Team (NLT) including his manager.
"There were some fantastic individuals shortlisted for the award, so I'm grateful to the judges for selecting me. The main value of entering the awards is the recognition for my contribution to Newsprinters and recognition within the industry. The NLT has been fully supportive and trusting of me and the position I hold within the business and that also reflects on the organisation and shows how progressive it is. On a personal level, this will benefit my confidence and enhance my career prospects," Champion explains.
I draw my inspiration from my colleagues, particularly the passion for print and the commitment from so many people within the business.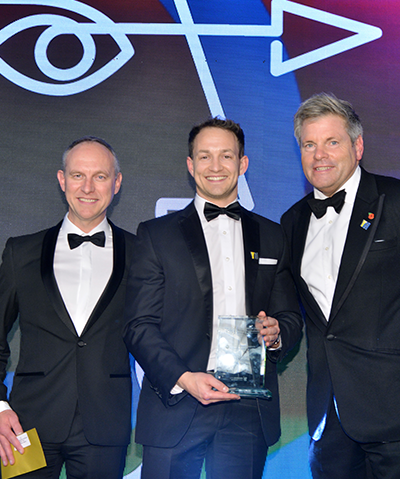 📸 Leo Wilkinson photography
Left to right: Chris Venables, sales director, UPM Communication Papers, UK; Rob Champion, assistant technical services manager, Newsprinters; Mark Durden Smith, awards host presenter.
A professional, yet considerate mindset characterises Rob Champion
A multi-skilled and talented team leader, Rob's dedication and commitment to print, and his approach to his work and colleagues, marks him as special, say his peers. And the judges agreed. His progress in the industry from a 'mechatronic' mechanical and electrical engineer apprentice at Wapping in 2002, where he excelled, has been remarkable. Rob has been successively promoted since 2015 to his current position of assistant technical services manager in 2019 with site-wide responsibilities for engineering. He has been recognised for his dedication and passion for print, his work ethic, his diligence and his attention to detail.
"I draw my inspiration from my colleagues, particularly the passion for print and the commitment from so many people within the business. It can be a very demanding and tough environment, particularly under the current circumstances but the team at Newsprinters always support and communicate with each other. There is also a sense of reward within engineering; being able to keep the largest presses in the world turning is no small feat." Champion adds.
Rob Champion's journey with Newsprinters from apprentice to manager
Starting as a youngster, fresh out of school, Rob excelled as an apprentice at Wapping before going on to complete a higher national diploma (HND) in electronics and becoming a fully-fledged engineer at Newsprinters Broxbourne. Here Rob honed his skills as a day shift engineer, soon gaining recognition for his diligence and attention to detail.
In 2015 Rob was promoted to a Day Team Leader with duties that included overseeing planned maintenance whilst at the same time studying to become a member of the Chartered Managers Institute in his own time. By 2016, and now with letters after his name, Rob's team leader role was expanded with added responsibilities including management of shifts, breakdowns and corrective work.
His committed, hardworking manner earned Rob the respect of staff, colleagues and managers alike. So, it was no surprise when in 2019 Rob was promoted again to his current position of Assistant Technical Services Manager with site-wide responsibilities for engineering.

For others, thinking of entering the awards, Rob Champion recommends a professional yet persistent approach: "Don't be afraid of putting yourself forward, be proud of your achievements. The award reflects your commitment to what you do, so whether you've been nominated by colleagues or put yourself out there, it's a great opportunity to showcase your work and become recognised across the industry."
Print Production Achiever of the Year recognises excellent professional development
The UPM Print Production Achiever of the Year is a new award for NewsAwards 2021. The judges were seeking individuals who have made significant strides in their professional development. Dedication and a passion for print were key as the judges scrutinised a number of nominees involved in disciplines relating directly to the actual production of a printed newspaper such as pre-press production, printing, mailroom and finishing, newspaper distribution, as well as consumables procurement. The judges were searching for someone who had made a positive impact on their organisation and his or her peers by adding value to the business, along with leadership skills or leadership potential.
Read more about all the nominees here.
About NewsAwards 2021
Celebrating the best in news media print, technology, and business innovation.
All twenty categories of NewsAwards 2021 are open to entries from the United Kingdom and the Republic of Ireland except The International Newspaper of the Year Award that is only open to newspapers published overseas. International Digital Innovation of the Year is open to entries from the United Kingdom, the Republic of Ireland as well as overseas publishers and printers.