The fourth sheeting line at the UPM Kymi paper mill started full production at the end of October, strengthening UPM's position on the market for graphic fine paper sheets.

"Investing in new equipment shows that fine paper production remains an important part of UPM's operations. The sheeter will help us strengthen our position on the market and step up our production of graphic paper sheets. It will also help us optimise production between UPM Kymi in Finland and UPM Nordland Papier in Germany," says Matti Laaksonen, General Manager, UPM Kymi and Kaukas Paper Mills.
"The new sheeting line enables UPM Communication Papers to respond quickly to the changing needs of the paper sheets markets, while offering strong, fast and reliable services. It gives us perfect flexibility to provide the high-quality graphic papers that our customers worldwide expect from UPM. At the same time, this investment underlines our commitment to the graphic paper industry" says Patrick Trottmann, Area Sales Director Europe, Graphic Fine Papers.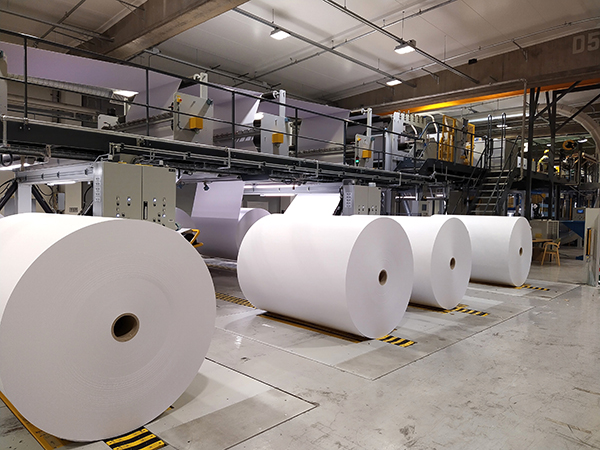 A year-long project successfully completed
The new sheeting line, comprised of a folio sheeter, conveyors and a packaging line further expands the paper production area of the UPM Kymi integrated mill site. The new line was built in a space previously used as a warehouse, specifically converted for this purpose. The project was safely and successfully completed despite restrictions of Covid-19. Start-up took place on 24 September and performance tests have been conducted throughout October.
"The tests have been very successful. We produced the first pallet that was shipped out to our customers on the very first day of the start-up," Laaksonen concludes.
The new line will produce coated and uncoated graphic fine paper sheets.
For further information please contact:
Matti Laaksonen, General Manager, UPM Kymi and Kaukas Paper Mills
tel. +358 400 982673
matti.j.laaksonen@upm.com
UPM, Media Relations
Mon-Fri 9:00-16:00 EET
tel. +358 40 588 3284
media@upm.com
UPM Communication Papers
UPM Communication Papers is the world's leading producer of graphic papers, offering an extensive product range for advertising and publishing as well as home and office uses. The high performing papers and service concepts of UPM add value to our customers' businesses, while actively fulfilling demanding environmental and social responsibility criteria. With headquarters in Germany, UPM Communication Papers employs approximately 7,700 people. More about UPM Communication Papers and its products at www.upmpaper.com
Follow UPM Communication Papers on LinkedIn

UPM Kymi
UPM Kymi is a mill integrate producing pulp, paper and energy. UPM Kymi employs about 700 people and is located in South-East Finland in Kuusankoski, Kouvola. Kymi produces bleached birch and softwood pulp as well as coated and uncoated fine paper. www.upmpaper.com/upm-kymi

UPM
We deliver renewable and responsible solutions and innovate for a future beyond fossils across six business areas: UPM Biorefining, UPM Energy, UPM Raflatac, UPM Specialty Papers, UPM Communication Papers and UPM Plywood. As the industry leader in responsibility we are committed to the UN Business Ambition for 1.5°C and the science-based targets to mitigate climate change. We employ 18,700 people worldwide and our annual sales are approximately EUR 10.2 billion. Our shares are listed on Nasdaq Helsinki Ltd. UPM Biofore – Beyond fossils. www.upm.com
Follow UPM on Twitter | LinkedIn | Facebook | YouTube | Instagram | #UPM #biofore #beyondfossils