UPM is one of the first companies to link the pricing mechanism of a syndicated revolving credit facility (RCF) to both biodiversity and climate targets. The margin of the RCF is tied to two key performance indicators (KPIs):

achievement of a net positive impact on biodiversity in the company's own forests in Finland
a 65% reduction of CO2 emissions from fuels and purchased electricity by 2030 from 2015 levels, in line with UPM's commitment to UN Business Ambition for 1.5°C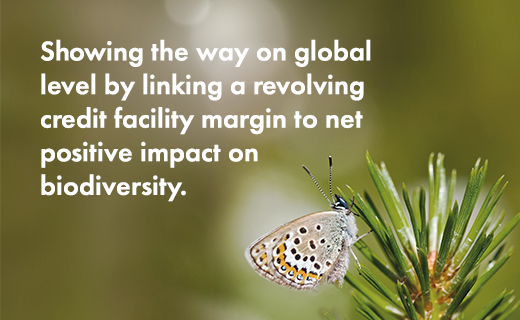 "Connecting UPM's sustainability performance to our financing demonstrates the importance of responsible business practises to our long-term value creation. Sustainable forest management plays an important role in mitigating climate change, as it ensures material long-term CO2 sequestration and improves adaptation to global warming. Enhancing biodiversity is not only about preserving forests, but is also a crucial element in sustainable industrial use, taking into account a wide range of flora and fauna. UPM is committed to achieving a net positive impact on biodiversity and we have developed indicators and methods to monitor it," says Tapio Korpeinen, CFO, UPM.
BNP Paribas acted as a sustainability coordinator for the facility. "Promoting biodiversity through finance is an essential lever in tackling the climate crisis. As a bank committed to innovation towards the transition, we are proud to support UPM in their strategy to accelerate sustainable forest management through finance. This transaction highlights the positive role of sustainable finance to link to progressive decarbonisation targets, which can jointly protect ecosystems," says Marjo Liukkonen Lazaro, Head of BNP Paribas Finland.
The EUR 750 million credit facility is the first step in building the funding base for UPM's significant transformation projects. The five-year facility has two one-year-extension options.
BNP Paribas, Handelsbanken and Nordea acted as Coordinating Mandated Lead Arrangers and Bookrunners for the facility and Citi, Commerzbank AG, Crédit Agricole Corporate and Investment Bank, Danske Bank A/S, DBS Bank Ltd., London Branch, DNB Bank ASA, HSBC France, J.P. Morgan Securities plc, OP Corporate Bank plc, Santander, SEB and Swedbank AB acted as Mandated Lead Arranger and Bookrunners.
Read more about our biodiversity programme and the RCF related key performance indicators.
For further information please contact:
Kenneth Råman, SVP, Treasury and Risk Management, UPM, tel. +358 400 477 287 (about RCF)
Tuomas Niemi, Manager, Standards, UPM Responsibility, tel. +358 40 738 8137 (about key performance indicators)
UPM, Media Relations
Mon-Fri 9:00-16:00 EET
tel. +358 40 588 3284
media@upm.com
UPM
We deliver renewable and responsible solutions and innovate for a future beyond fossils across six business areas: UPM Biorefining, UPM Energy, UPM Raflatac, UPM Specialty Papers, UPM Communication Papers and UPM Plywood. As the industry leader in responsibility we are committed to the UN Business Ambition for 1.5°C and the science-based targets to mitigate climate change. We employ 18,700 people worldwide and our annual sales are approximately EUR 10.2 billion. Our shares are listed on Nasdaq Helsinki Ltd. UPM Biofore – Beyond fossils. www.upm.com
Follow UPM on Twitter | LinkedIn | Facebook | YouTube | Instagram | #UPM #biofore #beyondfossils