On the occasion of International Biodiversity Day, Dr. Stefanie Eichiner, responsible for sustainability projects at UPM Communication Papers and chairwoman of the "Biodiversity in Good Company Initiative", awarded the prize for the competition "Die Lieferkette lebt" (The supply chain is alive) together with the Nature and Biodiversity Conservation Union and the German Federal Ministry for the Environment, Nature Conservation and Nuclear Safety.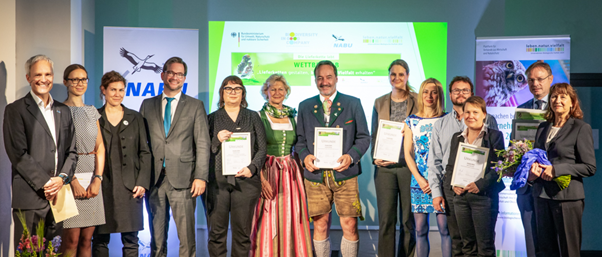 From left to right: Manuel Dillinger (NABU), Dr. Katrin Reuter (BiGCI), Dr. Stefanie Eichiner (UPM), Parlamentarischer Staatsekretär Florian Pronold (BMU), Ingeborg Trampe (followfood), Tina Lichtmannegger (Berghotel Rehlegg), Johannes Lichtmannegger (Berghotel Rehlegg), Stella Eichhorst (Alnatura), Angelika Richter (NABU), Dr. Frauke Fischer (Peru Puro), Dr. Arno Wielgoss (Peru Puro), Werner Kentrup (Bestattungshaus Hebenstreit & Kentrup GmbH), Editha Kentrup-Bentzien (Bestattungshaus Hebenstreit & Kentrup GmbH)
The members of the jury chose "Milchwerke Berchtesgadener Land Chiemgau eG" as this year's winner. The company particularly impressed the jury with its approach of integrating the protection of biodiversity into its conventional farming methods! The dairy company is a pioneer in the mainstreaming of biodiversity protection in conventional agriculture. The winner of the special prize, the funeral home "Hebenstreit & Kentrup GmbH", demonstrated that companies beyond the agricultural and forestry value chain can also successfully integrate biodiversity protection into their business practices.
Jury member Dr. Stefanie Eichiner, UPM Communication Papers: "Today is International Biodiversity Day. The referendums in Bavaria, Baden-Wurttemberg and Brandenburg to protect biodiversity prove that the issue of biodiversity literally moves people. The latest UN report on the critical situation surrounding biodiversity also makes it clear that measures must be taken at all levels. The engagement of companies is essential in this regard. With their supply chains, they play a key role in the long-term conservation of biological diversity. The winners of today's competition unite business and biodiversity in an exemplary way."
Biodiversity and the environment are closely connected. Functioning ecosystems enable carbon storage and thus protect the climate. "Basically, all companies should address this issue, as natural resources are limited. I hope that with the competition more companies will integrate biodiversity into their business operations," says Dr. Stefanie Eichiner, UPM Communication Papers.
UPM has been developing a biodiversity programme for over 20 years. Protection of biodiversity is integrated into UPM's day-to-day forestry operations. For example, valuable habitats are systematically mapped and protected, the composition of tree species is diversified, the structural richness of the forest is increased and the amount of dead wood, which is particularly valuable for many forest species, is increased. Biodiversity is the invaluable basis for the new brand promise "Beyond Fossils", which describes a future without products and energy from fossil sources.