Wish to be able to tailor your label release liner to suit your needs? It's possible with these heavily calendered, transparent glassine papers. Glassines offer very good quality consistency, optimal surface properties, even thickness and strength.
Regions
Africa | Europe | Middle East | South America
Description
A sustainable high quality release base paper with recycled fibers without compromising excellent liner performance. Yellow shade.
Converting method
Emulsion silicone coating | Solvent based silicone coating | Solventless silicone coating | UV cured silicone coating
Reel Diameter (cm)
80,0 - 135,0 / 147,0
Reel Width (cm)
50,0 - 230,0
Certificates and labels
94/62 EC Heavy Metal Certificate | BfR Food Certificate | EMAS | EN 71/3:1988 D Safety of Toys | FDA Food Certificate | Food Approval Statement | FSC Chain-of-Custody | ISO 14001 | ISO 22000 | ISO 9001 | PEFC Chain-of-Custody
---
Basis Weight (ISO 536) (g/m²) (lb/3000ft²)
Thickness (ISO 534) (µm) (mils)
Unger Oil Absorption (g/m²)
Tensile Strength MD (kN/m) (lb/in)
Tensile Strength CD (kN/m) (lb/in)
Tear Strength MD (mN) (g)
Tear Strength CD (mN) (g)
Please note: Technical values are informative and subject to production variations.
---
---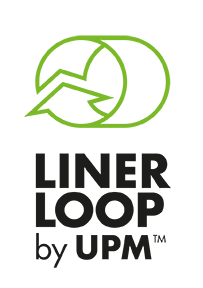 Be part of creating a circular economy in the label business
UPM has created a solution to recycle used release base paper back to release liner production. In 2018 UPM Specialty Papers introduced UPM LinerLoop™, the first label release paper recycling solution which takes us towards a circular economy. With UPM LinerLoop you can take a step towards your recycling and zero waste targets.